Dia ("light" in Arabic) was born two weeks ago on the Greek island of Samos, where her mother arrived in a dinghy last year after fleeing the war in Syria. She sleeps in a little hammock inside a shanty built with plastic sheeting and wooden boards, protected by a mosquito net and a pair of socks that cover her hands. Despite her short life, this baby girl has already experienced the Samos hell: on her first night in the camp a rat bit her in the head. When her mother, Mariam Ali, delicately brushes the baby's hair aside to show us the wound, Dia starts to cry. She only calms down when her mother picks her up and breastfeeds her. Dia feeds keenly. Her mother hasn't got over the fright yet: "I never leave her alone, but I fell asleep. The baby screamed and I saw the rat leap and get out through a hole in the tent". The next morning a volunteer doctor tended to her wound. "All we ask for is a safe place for our children, that's all", says the 33-year-old housewife, as she struggles to hold back her tears. "We have been trapped on this island for ten months now, and I can't take it anymore. I'm exhausted".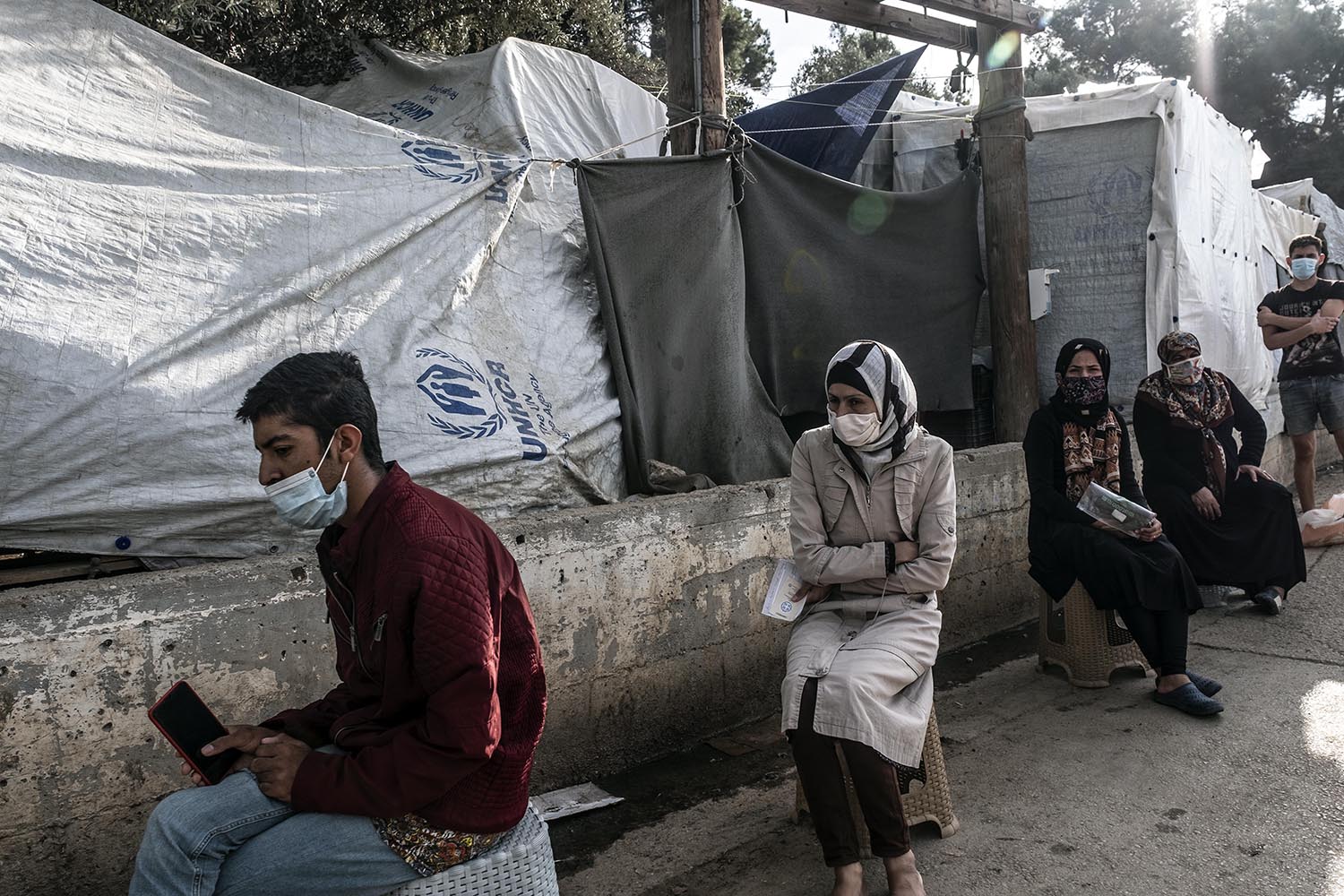 Refugees queue with social distancing, waiting to be seen by an NGO's volunteer doctors outside the camp's official facility.
Lesbos has received more media attention, but it isn't the only island in the Aegean Sea where people are trapped (21,400 by this week's official count). Since Greece and the EU signed an agreement with Turkey in 2016 whereby the latter would seal off its European borders in exchange for €6 billion and Europe's disregard for the human rights violations committed by Recep Tayyip Erdo?an's government, the Greek islands have become a purgatory where whole families wait for months or years for their asylum application to be processed by a bureaucracy that is mired in red tape and often rules to deny them any international protection with the argument that Turkey is "a safe country".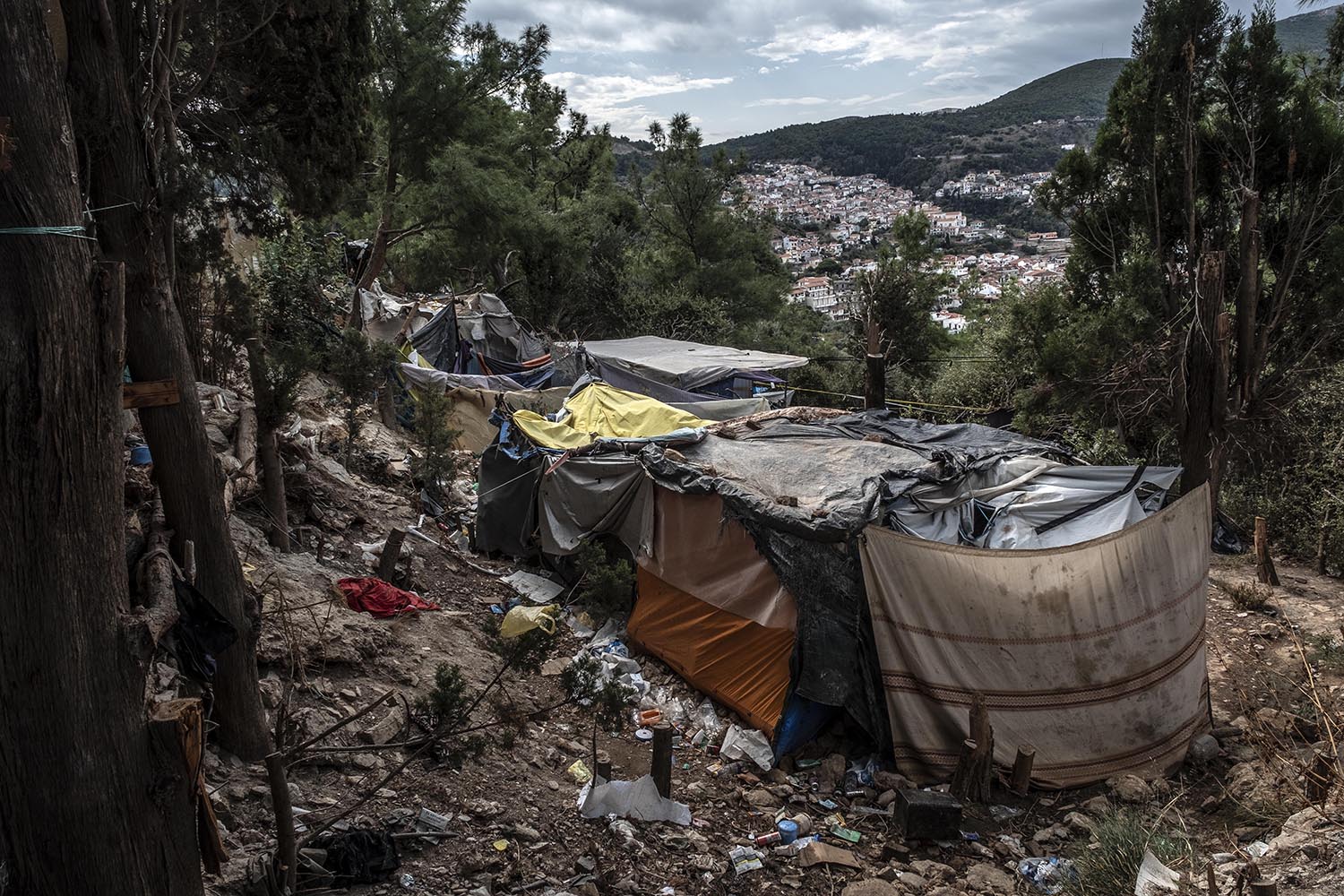 The crude shanties are in stark contrast with the houses in Vathy, the capital, which can be seen in the background.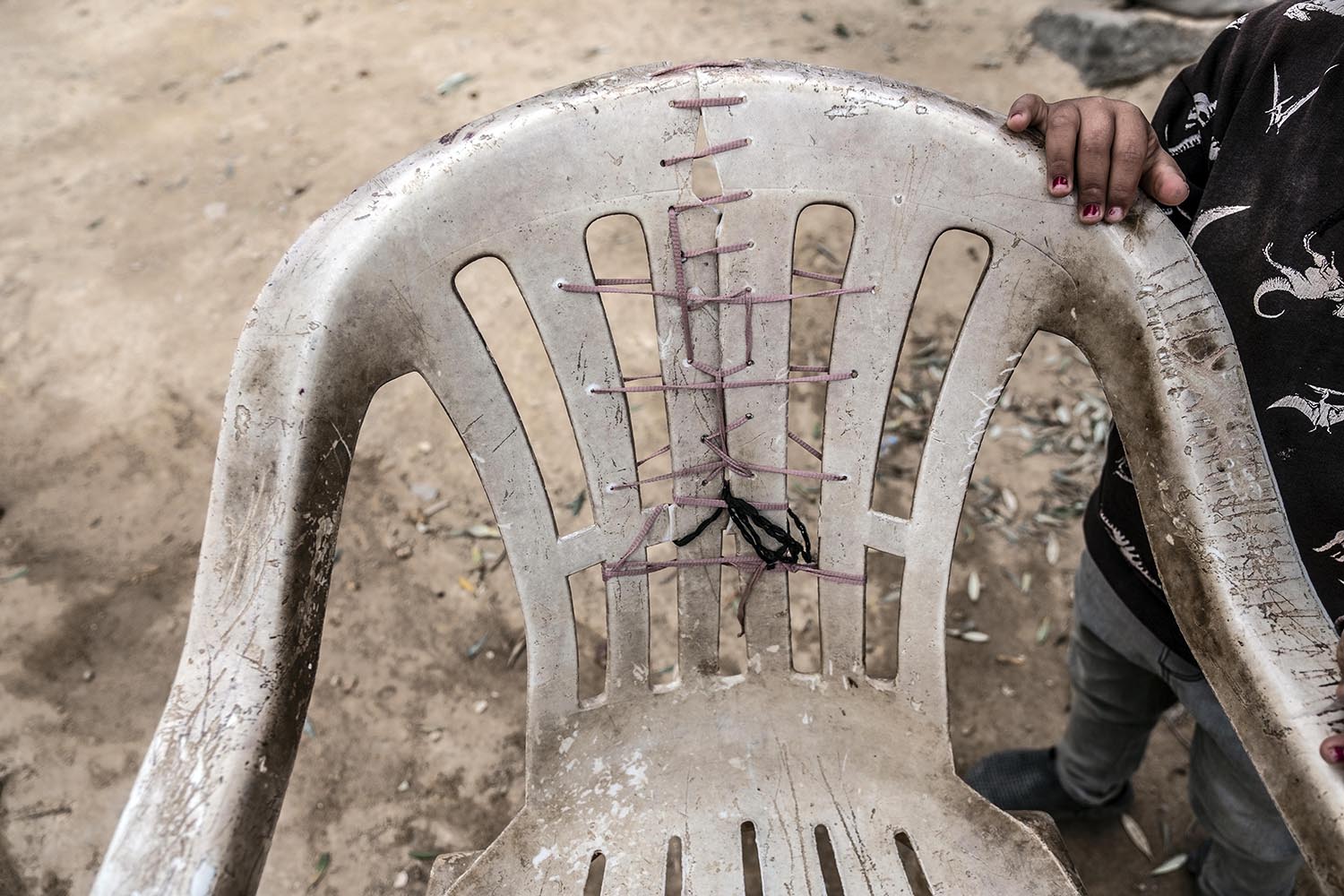 A chair has been stitched up and re-used in the home of an Afghan family. Chairs are some of the most valuable possessions in the camp.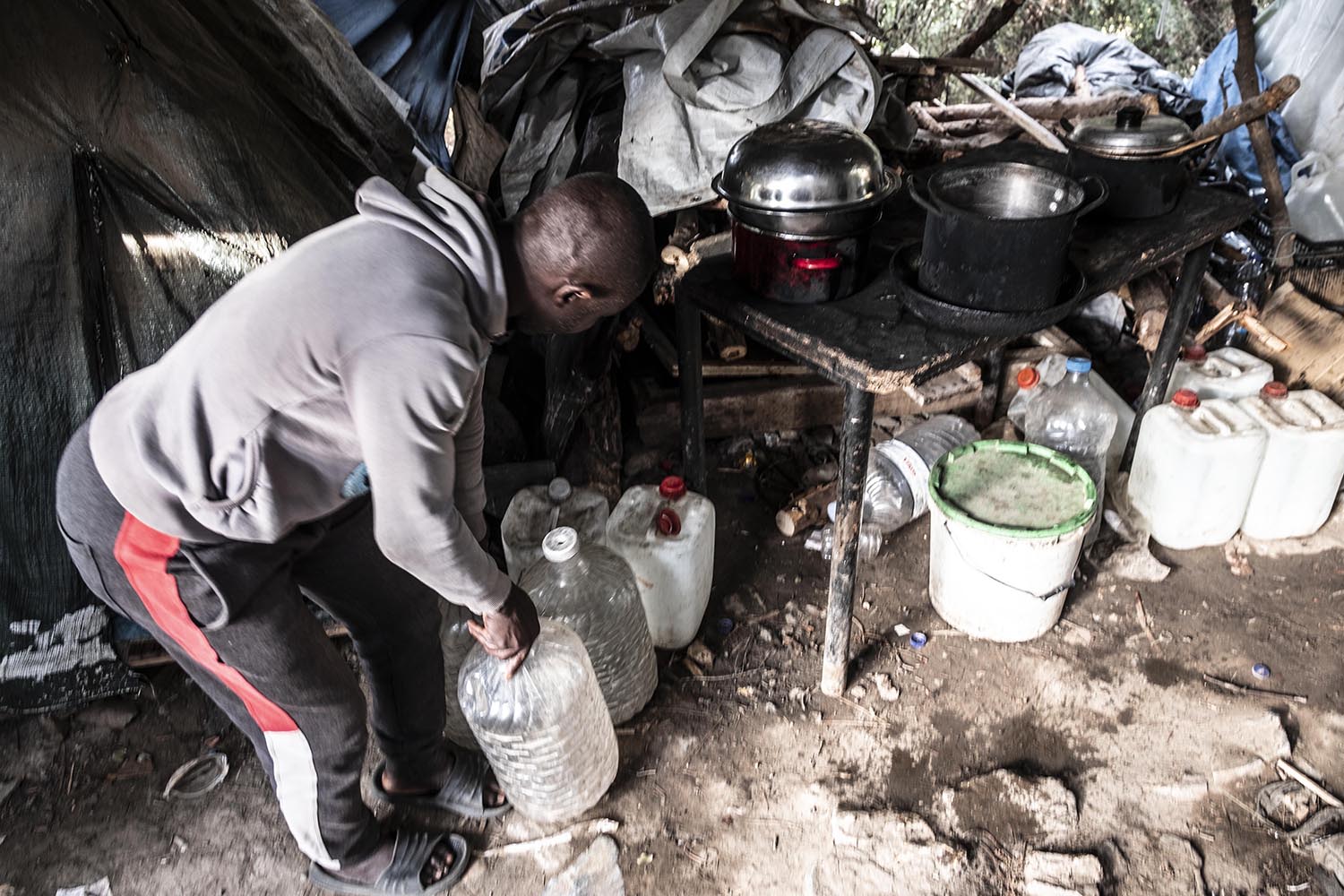 A man from Ghana carries water for cooking today's lunch to the kitchen he shares with half a dozen fellow Ghanaians.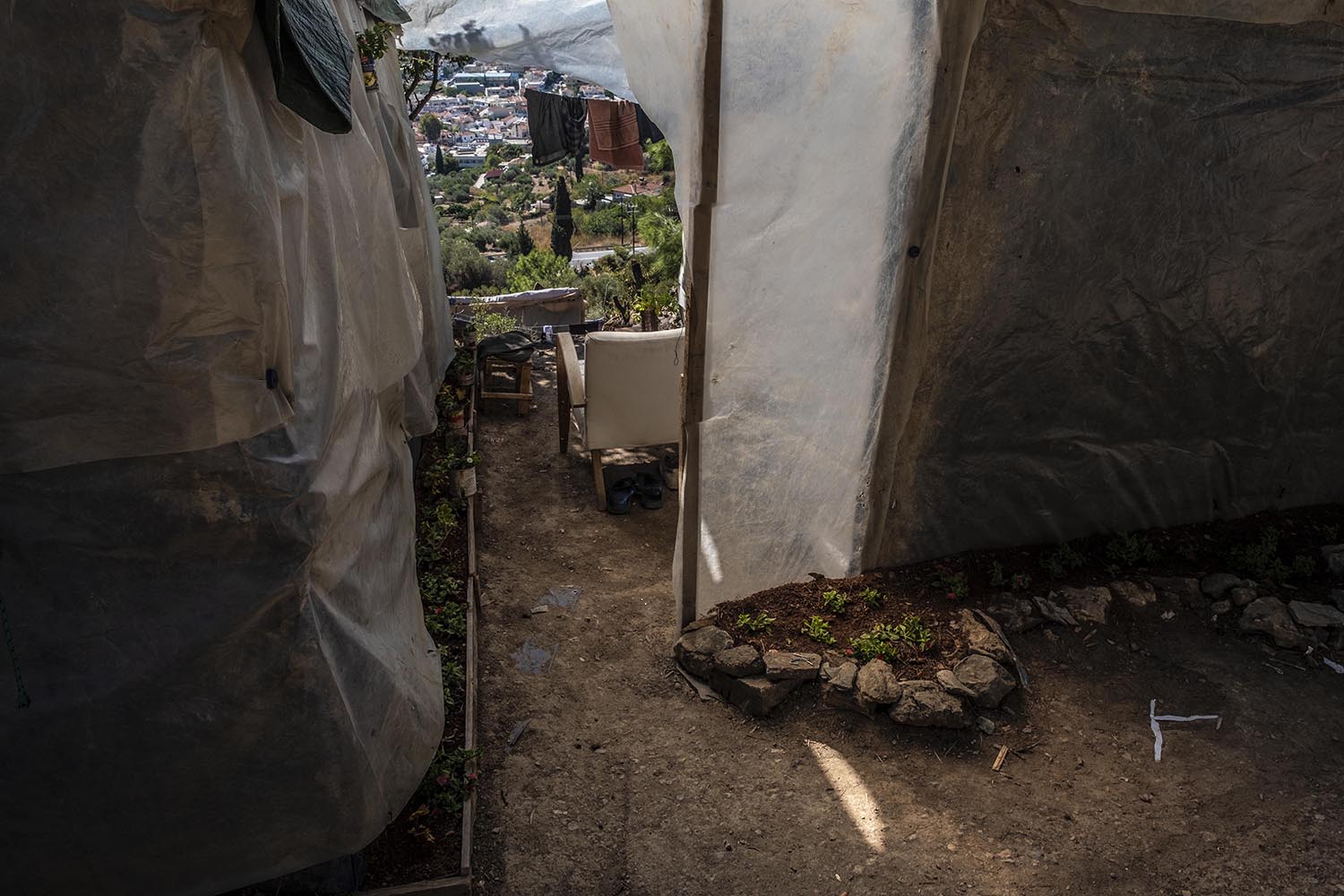 Refugees grow flowers to make their surroundings more human.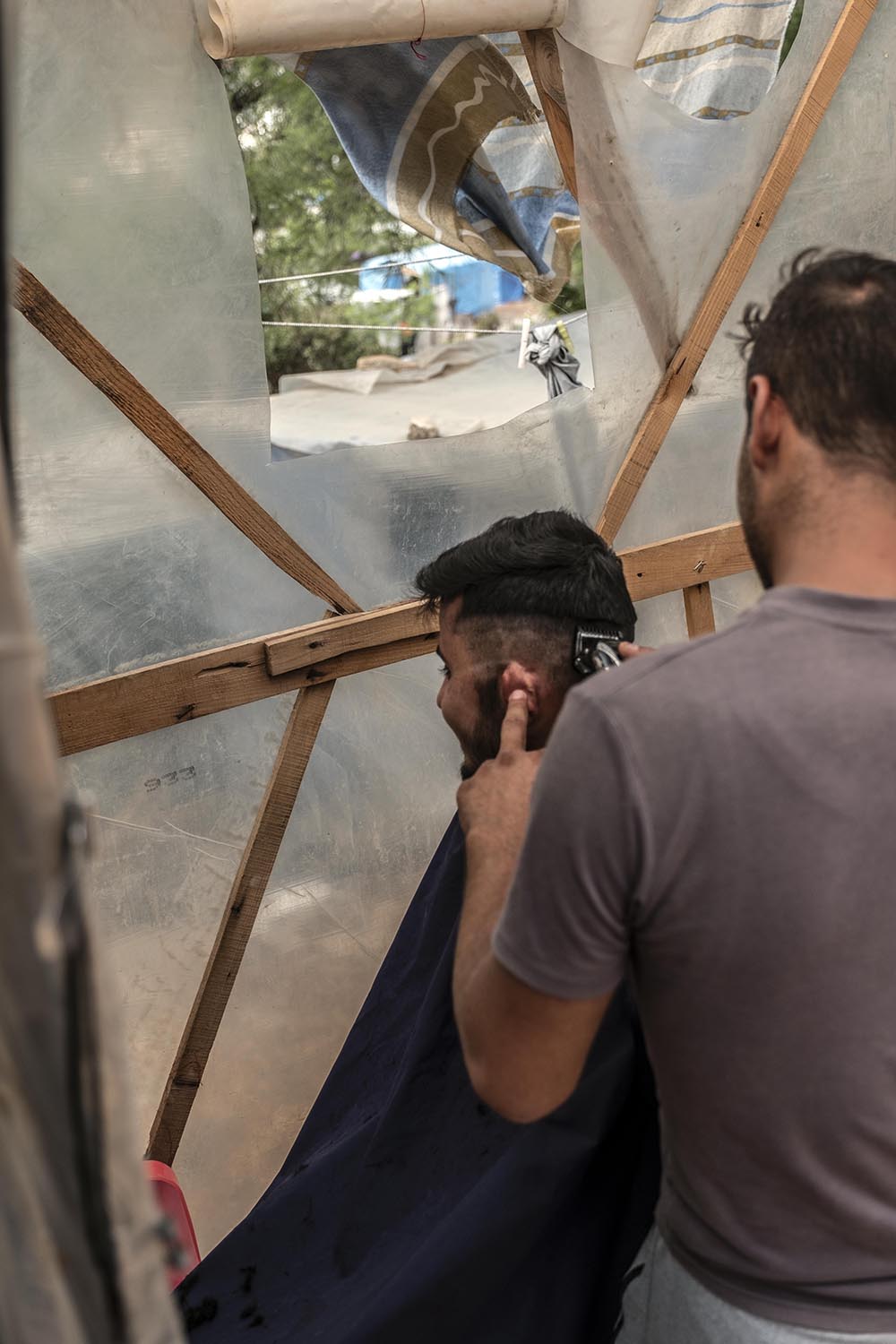 A small barber shop built with wooden planks and plastic sheeting.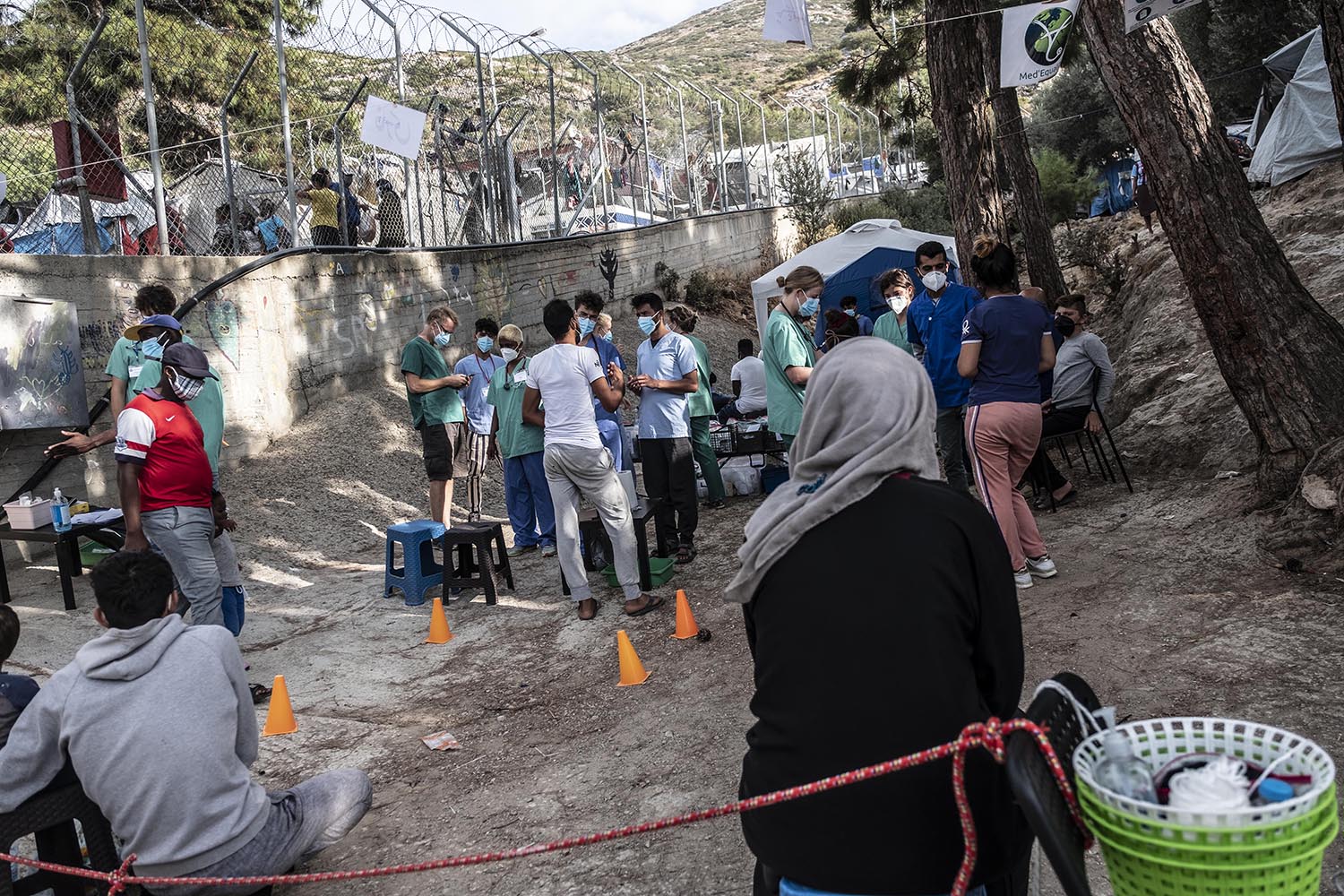 Med'EqualiTeam volunteers examining some patients.
"I am gay and back in my country that is an offence that carries a penalty of 3 to 10 years in prison. It's something that's not accepted. I used to live in fear all the time: fear of the police, of other people. You are persecuted by everyone and must always hide. The stigma you bear makes life very hard. I had to leave the place in order to be myself. I sold all my possessions to buy myself a flight to Turkey. I spent eight months there working in a workshop that made candelabra, with no papers, to earn some money and find a way to get to Europe. I arrived in Samos on 6 September 2019. I have told the authorities my story and I'm waiting to hear if I've been granted asylum. I hope they will believe me because I can't show any papers that prove the hardship I've endured. Life is tough here, too, and I also get harassed: an Arab beat me just for being what I am. But I stood my ground and now they don't bother me anymore".
Shabrak
IT specialist, 21 years old, Ghana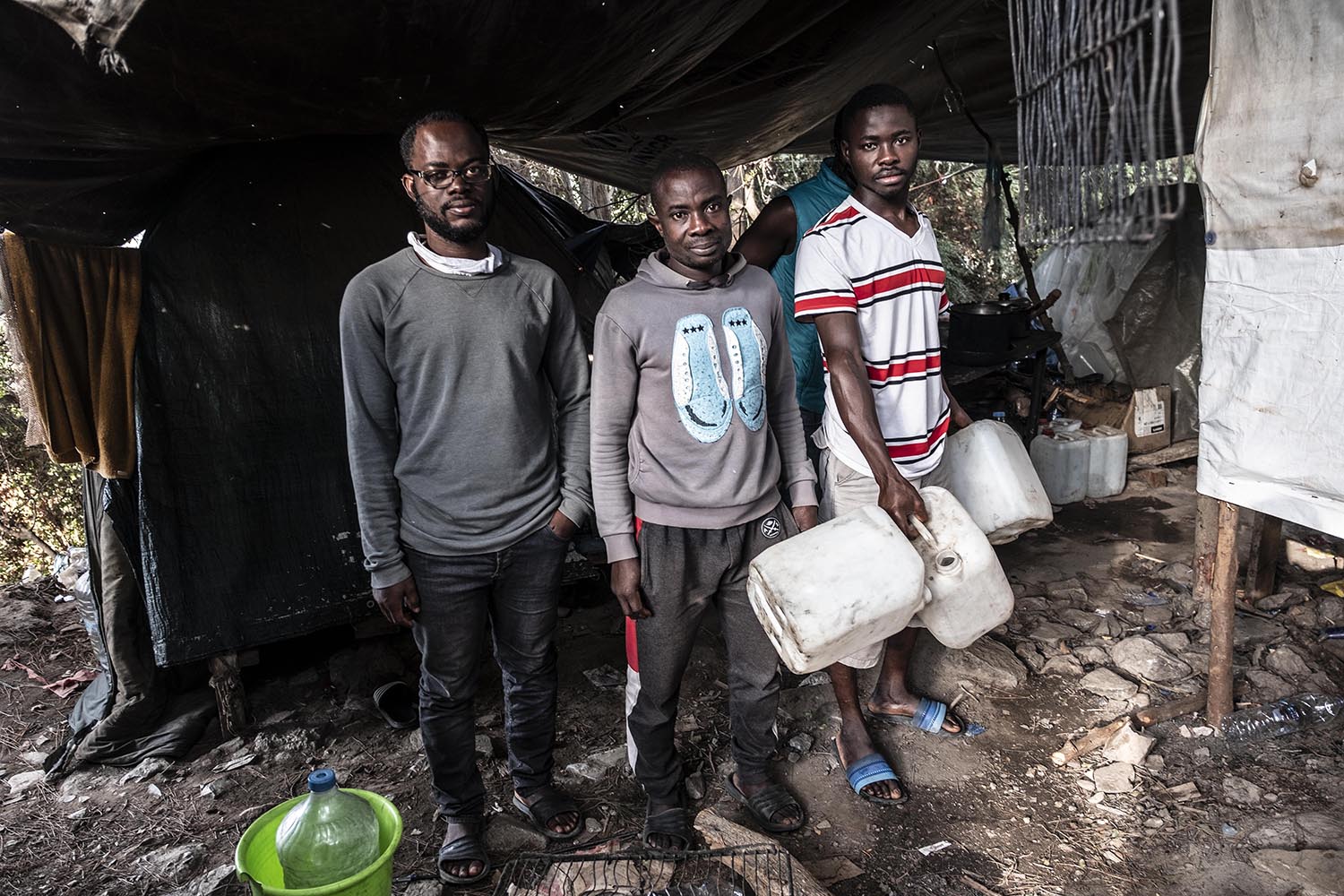 Shabrak with two housemates.
"I had to leave because I had no future in my country. I am nearly blind but I can work very well. I arrived in Samos on 16 August 2019 on a dinghy with 70 people. My asylum application has been turned down twice and they won't let me out of here. I'm trapped on this island but can't go back home as I don't know what would happen to me there. Every now and then I talk to my brothers on Facebook, but I don't tell them about my situation because I don't want them to worry about me. I always post pictures of our trips to town so they can't see the abject poverty we're living in here. It's much worse than back home".
Monine Alexi
Housewife, 38 years old, Haiti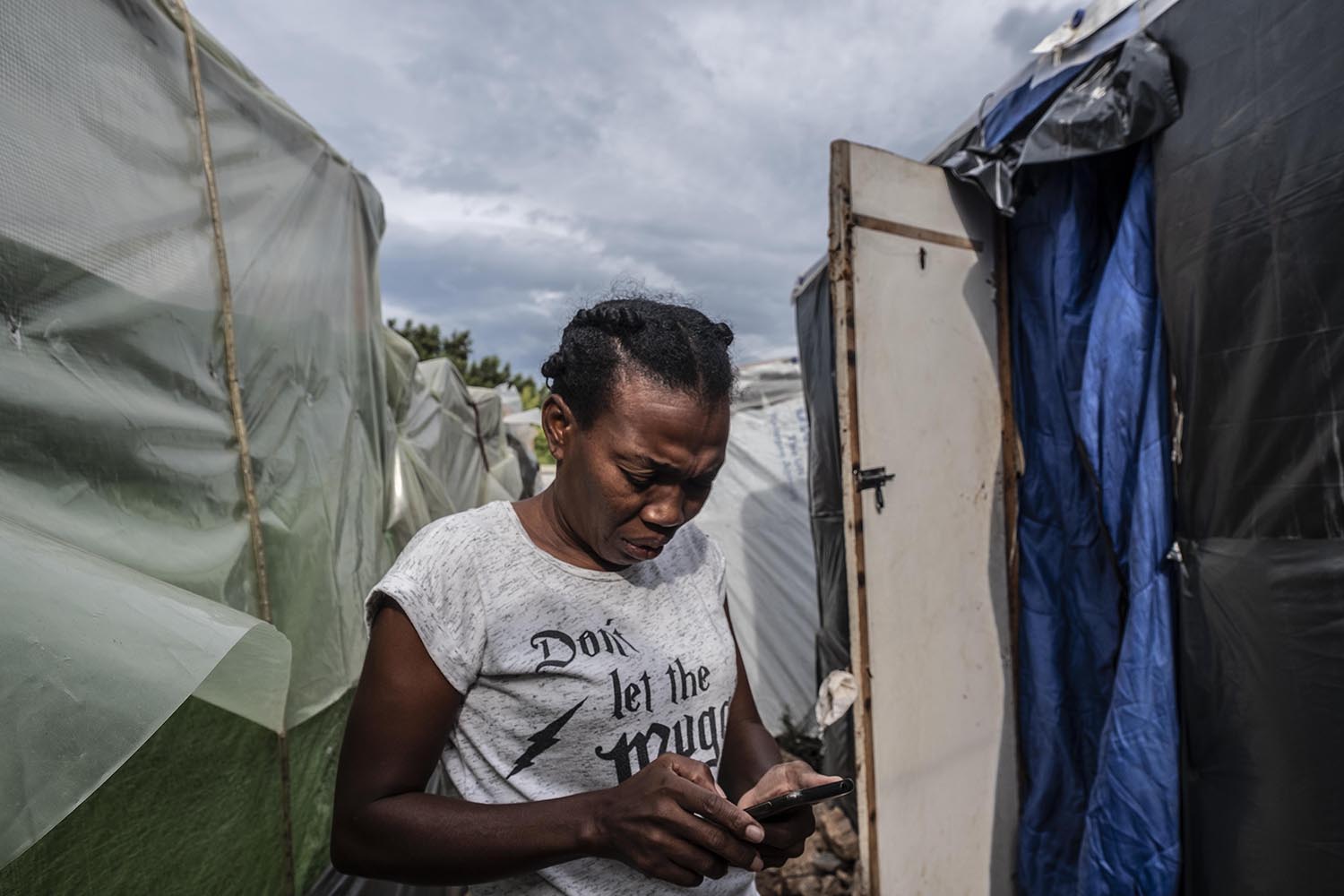 Monine Alexi at the door of her shanty, where her 18 year old daughter is sleeping.
"A gang came to our home and killed my brother. They said he owed them money. My daughter and I hid but they said they'd come back for us. I fled to the Dominican Republic and from there I flew to Turkey via Madrid. I am alone with my daughter, who is 18, and I am terrified for both of us. This place is extremely dangerous for women. We spend all day locked up in our shack and we dare not go out at night, not even to go to the toilet. Many women have been raped. I am also afraid of getting ill or that something awful might happen to me and then my daughter would be left alone".
Hassan i Fàtima Housseini
Farmers, 38 and 35 years old, Afghanistan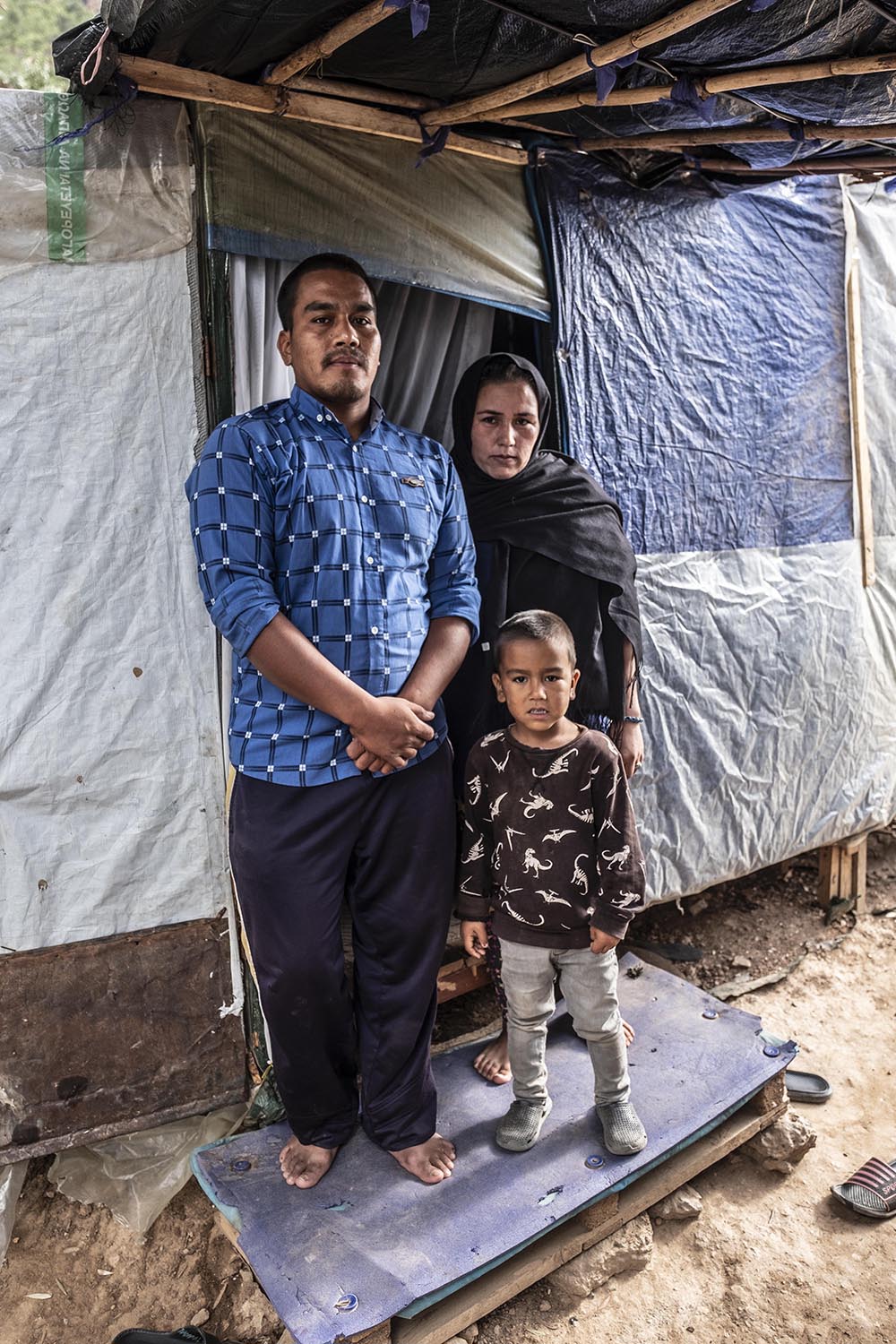 Hassan and Fatima Housseini, from Afghanistan, with their young son.
"We had to leave our farm eighteen months ago to escape the attacks by the Taliban. Crossing the mountains with two children aged 5 and 8 is not easy: Turkish soldiers will shoot at you at the border with Iran and we witnessed people falling off snowy cliffs. It was freezing cold. Then there was the dinghy: the sea is very scary. After all that we were hoping that Europe would welcome us, but they won't let us move on. The days go by here and we feel helpless".
Saleh Ahmad
Tailor, 28 years old, Syria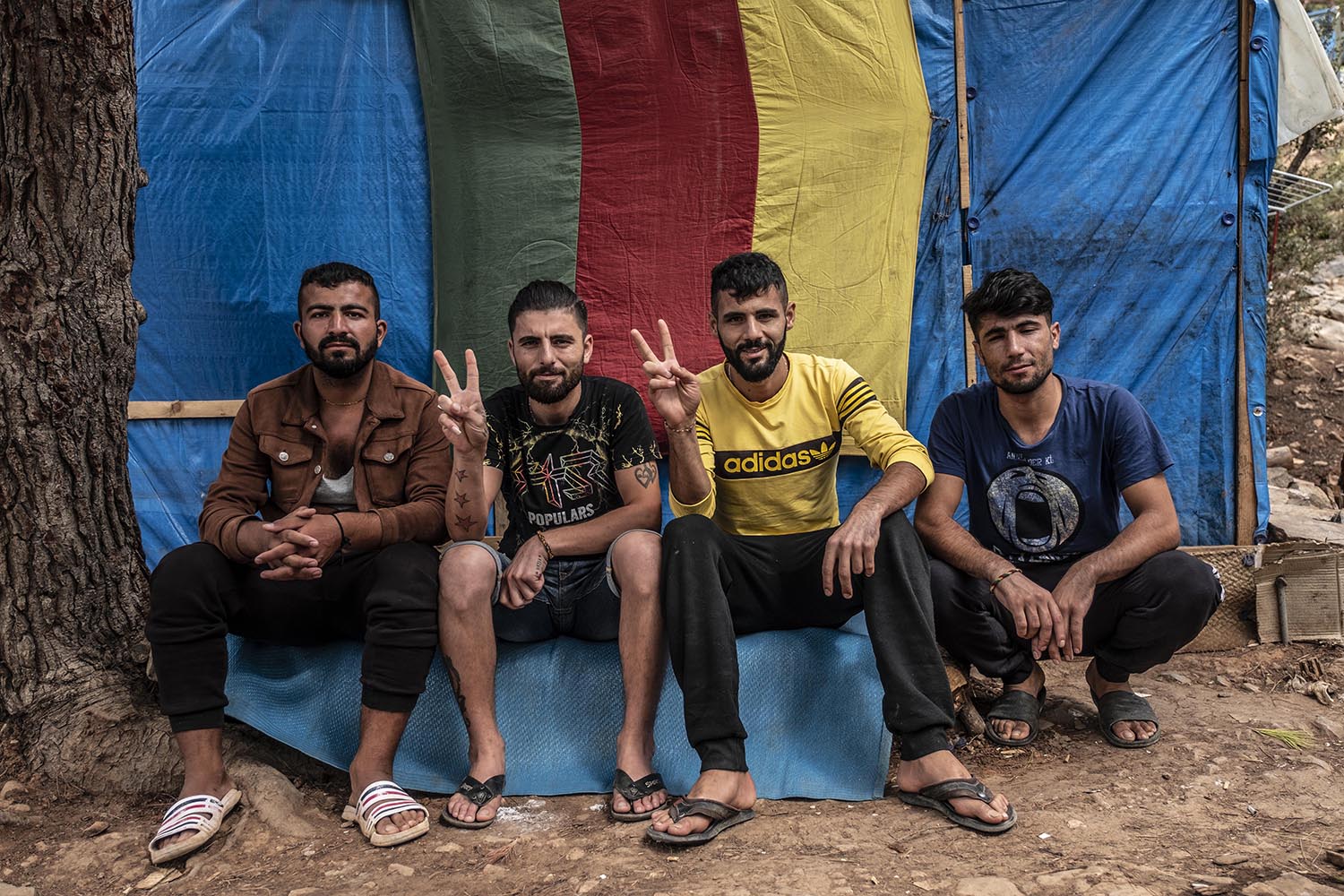 Saleh Ahmad (left) poses with other Kurdish camp mates. A Kurdish flag behind them emblazons the side of their shanty.
"We left Kobane one year ago. The Turkish army had occupied the city and treated us like dogs. They regard all Kurds as terrorists and they'd come to kill us. Bashar al-Assad and Erdo?an want to wipe out all the Kurds. That's why we need an independent country. We couldn't stay in Turkey and that's why we came to Europe. But one day we'd like to go back home. Syrians are now scattered across the world, but in Greece we have been denied asylum twice: they say Turkey is a safe country, but it isn't if you are a Kurd. If we get sent back there, they will kill us. Everyone knows that, but it seems that the European governments aren't interested in helping us. What about human rights?"
It is personal accounts like these that have led Médecins Sans Frontières to warn that the main medical issues on the camp are to do with mental health. The trauma that these people have suffered in their country of origin is compounded by the desperation brought by the precarious living conditions, the endless waiting around and the uncertainty of not knowing whether they will be allowed off the island or sent back to Turkey one day.
BEING A MOTHER IN THE JUNGLE
Surviving in the Samos camp is hard for adults, more so if they have children to look after and they try to protect them from all the dangers. Mothers bear the brunt of that: cooking, doing the laundry, tidying up the shack … They are practically confined to the Jungle. It is the men who do the shopping in town, which means that local residents have this image of single men roaming the streets without women and children, as they are always busy. That has accentuated their isolation from the outside world.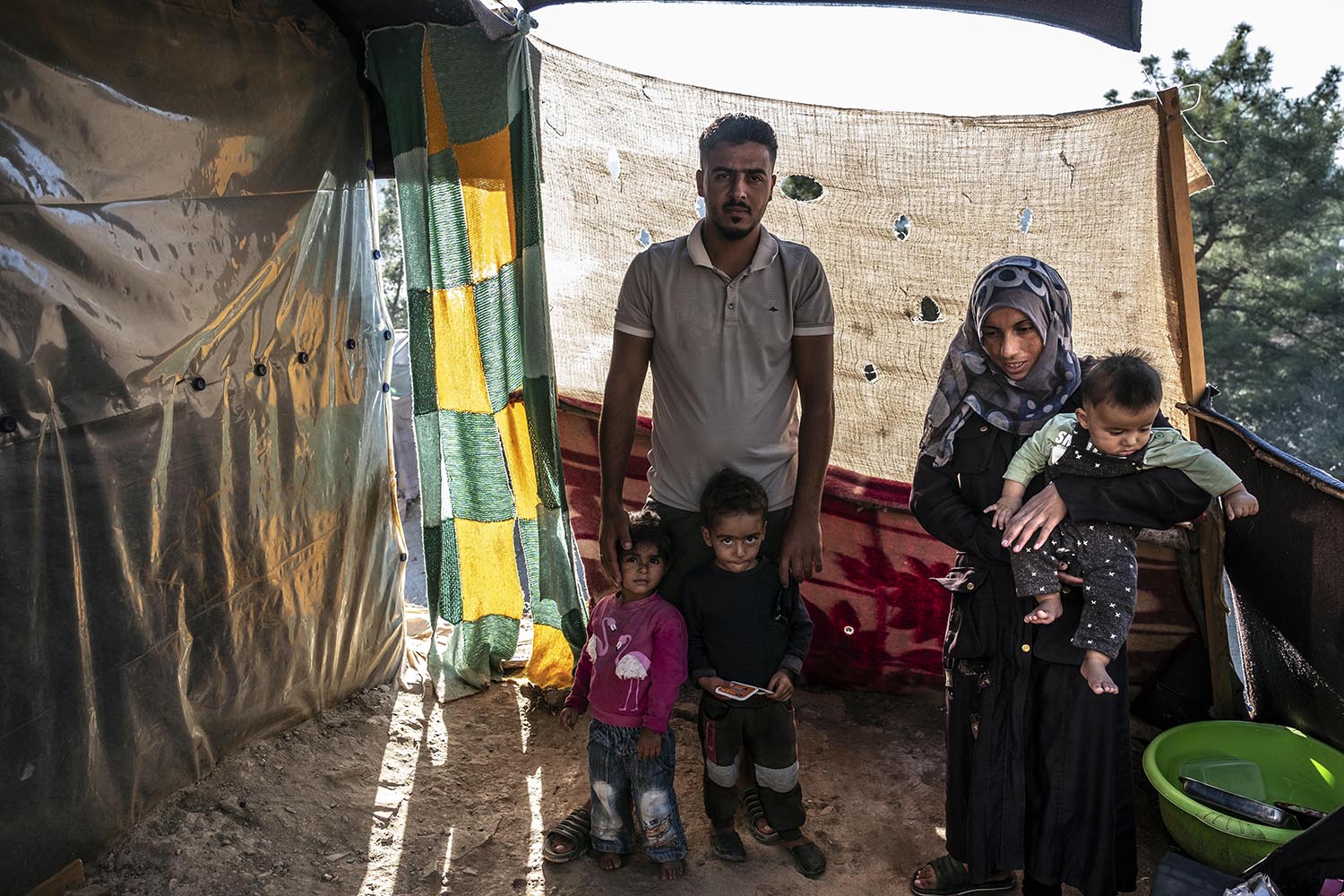 Saleh and Zakia, from Idlib, with their three children.
Some women are here by themselves with their children, like Rahua Také, a 20 year old woman who fled Eritrea to dodge the draft. In her country the military service can last indefinitely. Her ordeal took her to Saudi Arabia where she worked as a maid under the kafala system, which means workers are turned effectively into slave labour for their Saudi employers. She was pregnant when she arrived in the island and her son, who is now six months old, was born here. She carries her light-skinned baby wrapped on her back. "I was working for a family of ten and never got a break. They took my passport away and I wasn't allowed to leave the place", she explains. But she lacks the spirit to tell the full story and avoids making eye contact when we ask her about the baby's father. She caresses her son and is reluctant to have her picture taken. She lives by herself in a shanty covered in blue plastic sheeting, but she says her neighbours help her. They all make sure she is safe: Ahmad, the Palestinian next door, an Eritrean family further up, and some sturdy lads from Kobane who have put up a large Kurdish flag at the entrance to their home. The poorest also show their solidarity.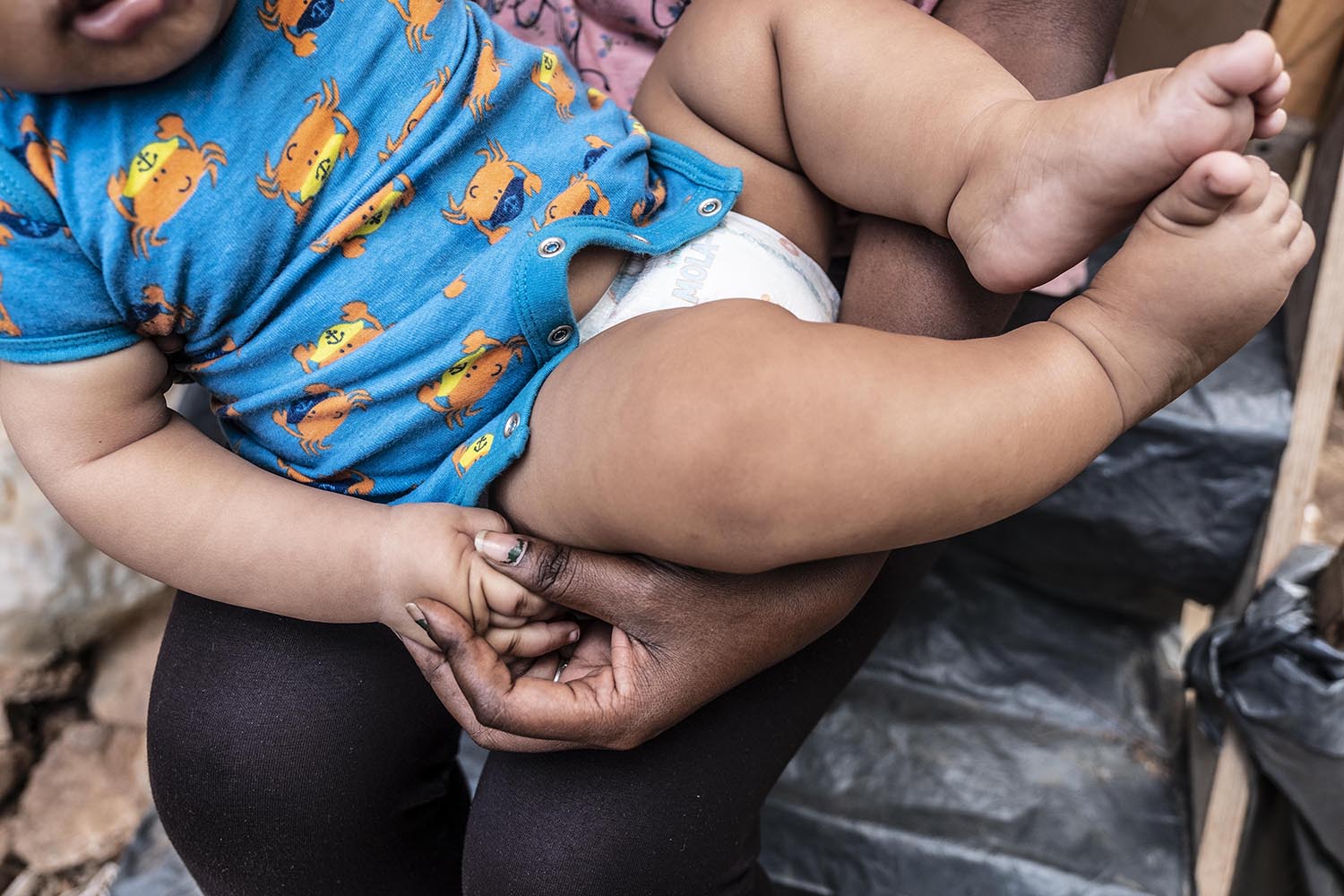 Rahua Také, who would rather not have her picture taken, with her baby boy.
Kamar is a young Syrian who fled with her husband and their son, Mustafa, aged three. The boy plays basketball with a hoop they put up in the largest room in their shack: at the back they have set up a wood stove which they cook on and keeps them warm in winter ("We know it's not safe to have a fire inside the tent, but you have no choice when it is so cold", she says) and a small shower with a barrel and a stone slab on the ground. On a wooden ledge there are her son's clean, carefully folded clothes. "When he is older, I will tell him the whole story: how we left Syria at night crossing the mountain border while Turkish soldiers were shooting, how we survived the journey on the dinghy and how we lived in a shanty. He must know that we managed to get through all that. That will make him stronger", she says with a smile. Her family are trying to get to Sweden, where her sister lives. She managed to leave Syria in 2015, before Europe's borders were closed down to refugees. They, too, have had their asylum application turned down by Greece, claiming that Turkey is "a safe country". At the moment the European authorities are turning away even war refugee. Apparently the 1949 Geneva Convention no longer applies in 21st century Europe.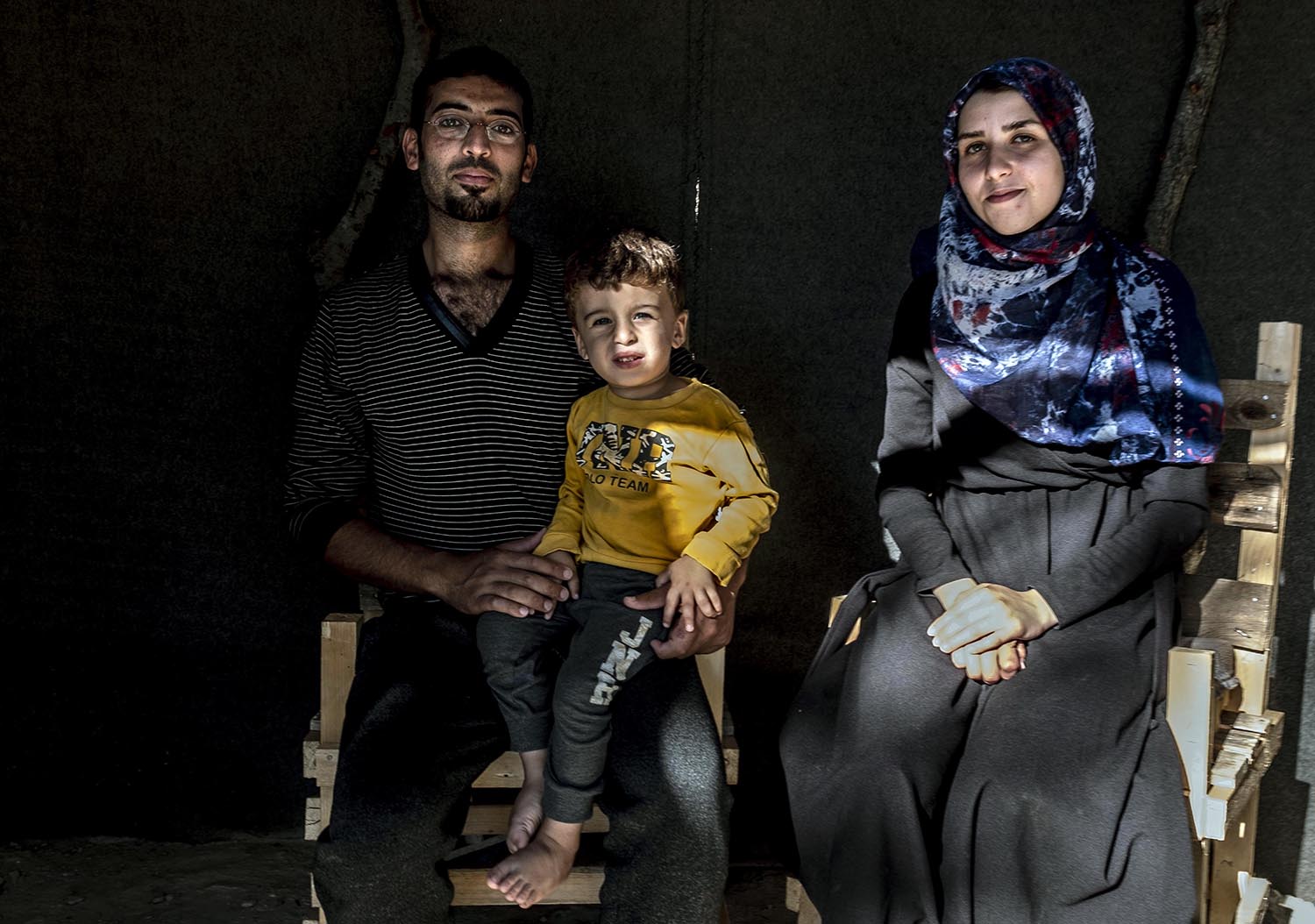 Kamar with husband Mohammed and their son, Mustafa, have built a small shed with views of the city and the sea.
Yet life goes on, even in the utmost destitution. Afaf Bubi, a Kurdish woman from Syria, caresses her daughter Maria, who was born on Samos one month ago. "I didn't aim to have a baby here, but it is always a blessing". It is as if all the hardship was kept outside her wooden shack. Inside it is clean and everyone smiles. Maria's older sister comes to play with her and the baby's eyes are wide open. She has barely begun to focus her gaze and smile when spoken to. Her mother speaks collectedly: "When I got pregnant I thought we'd be out of here by the time the baby was due, but now we are getting ready for another winter. We will heat up some water and wash inside the tent. I left Syria so that my children could have a better future and go to school. Well, now we have one more reason to keep going. I don't know if they will want to go back to Syria when they've grown up, but I have nothing left there. I just want to get to a safe place and for my children not to have to leave their home like we did".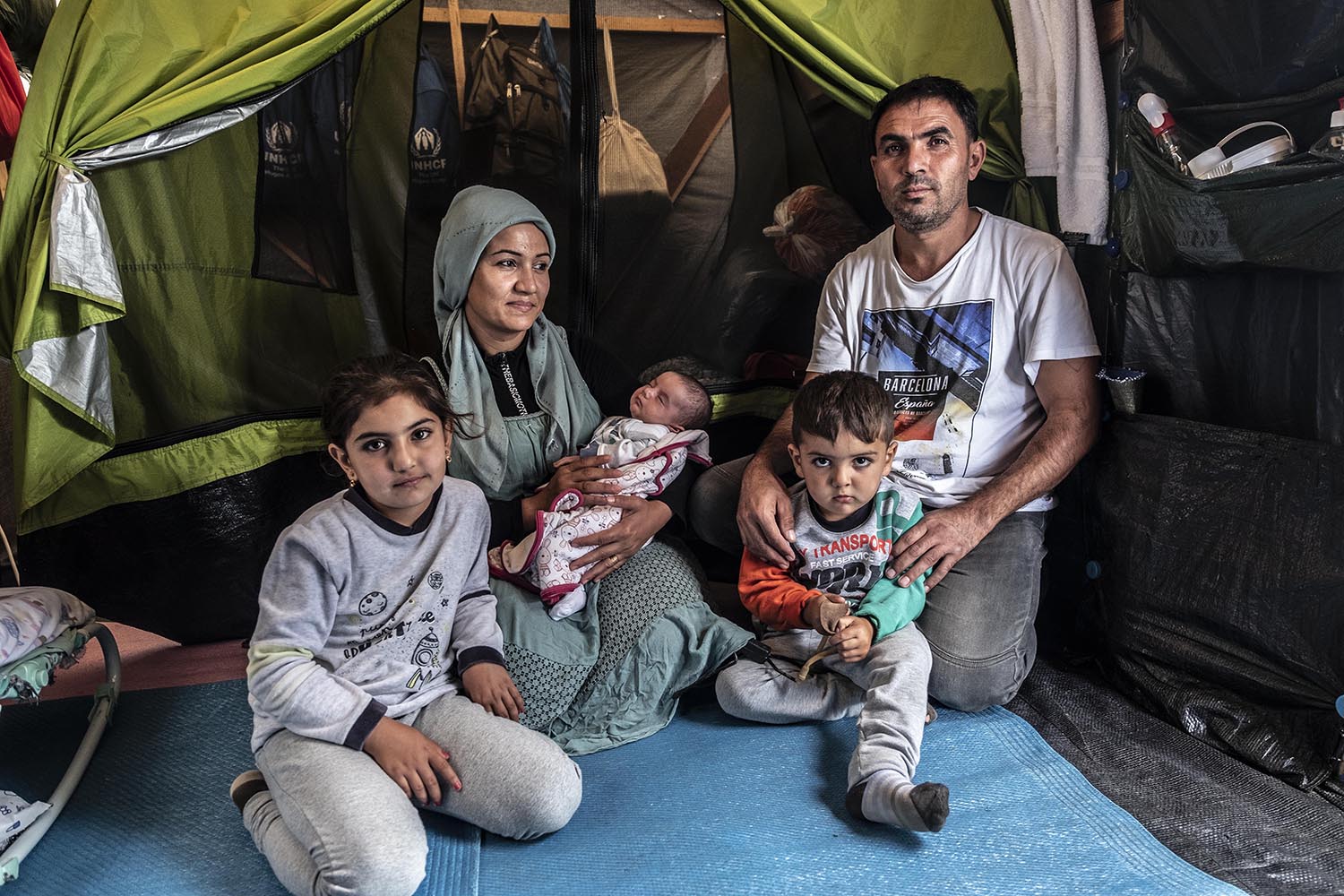 Afaf Bubi poses with her family in their shanty, where the have put a tent inside the wooden shell. Baby Maria is one month old.
In the last few years mid-wife Rebecca Marcussen has worked in the worst all-out wars across the world: Yemen, Syria, Iraq … She reckons Samos has been one of the most testing destinations. "You don't expect to find this in Europe. People here have nothing. If bringing a child to this world is one of the most challenging experiences a woman can have, doing it under these conditions is terrifying". They also take care of women who have been sexually assaulted. She stresses that "it is really hard to see that the same person keeps coming back to our clinic for medical attention, time and again".
At present hardly any dinghies sail to the Aegean Sea islands, but EU countries remain obsessed with border control. The noise of populism and resorting to policing have put up increasingly higher walls behind which newborn babies are bitten by rats.